San Francisco, CA – February 28, 2011 – DeskToolsSoft is giving away free Flip UltraHD Video Cameras (8 GB, 2 Hours) to qualified affiliates in March 2011.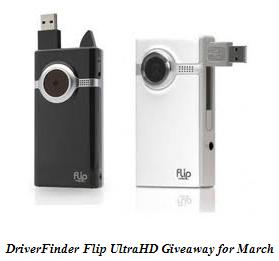 From March 1, 2011 to March 31, 2011, business partners who achieve at least 50 DriverFinder net sales will receive a Flip UltraHD Video Camera (8 GB), courtesy of DeskToolsSoft, the makers of DriverFinder, a leading Windows® driver update utility.
"We had such a huge success with our Apple iPad giveaway last November that we decided to make giving out 'affiliate bonuses' a habit in 2011.We actually have so many things in store for DriverFinder affiliates this year! The free Flip UltraHD video camera is just for starters", according to Thomas Robert, Affiliate Manager at DriverFinder.
The DriverFinder incentive program is open to all affiliates who sign up via Clickbank or Plimus.
For details and mechanics about this Affiliate Bonus Program:
http://driverfinderpro.com/blog/affiliate-bonus-free-flip-ultrahd/
DriverFinder is available for immediate download at its official website: http://www.driverfinderpro.com
About DeskToolsSoft, Inc.
DeskToolsSoft, backed by almost 20 years of experience in the IT industry, was established with one aim: to provide desktop utilities that do exactly what 'it says on the box'; namely, to optimize computers on various, specific levels so that users get the most performance out of their machines.
The DeskToolsSoft goal is not only to produce software to help clients with system maintenance but to produce software that UPLIFTS their computing experience. DeskToolsSoft achieves this by utilizing only the best processes and technology in the IT industry, and presenting them in a highly user-friendly interface for clients.
Affiliate Contact:
Thomas Robert
Email: affiliates (at) driverfinderpro (dot) com
Phone: 310.893.0701
http://www.driverfinderpro.com/
Media Contact:
Diana McCord
DeskToolsSoft, Inc.
Email: media (at) desktoolssoft (dot) com
Phone: 310.893.0701
http://www.desktoolssoft.com
###